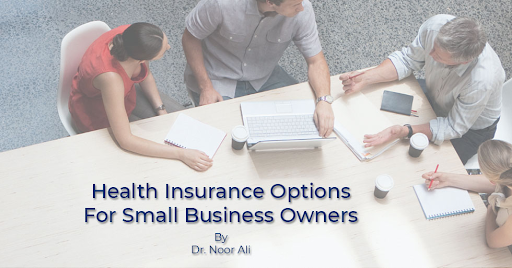 Article provided by: drnoorhealth.com
Dr. Noor Ali has been a health insurance advisor for several years. She helps business owners in different stages achieve the peace of mind they need when it comes to health insurance. In this article, she shares the importance of health insurance for small business owners.
Being aware of the importance of health insurance for your small business is crucial.
It doesn't matter which part of the country you're in, small businesses across the United States of America grow in different ways.
Yet, in all stages of growth, small business owners have to consider and remember the importance of health insurance for themselves. Aside from getting insurance for your team or your business operations, you need health insurance to ensure you are protected from inflated medical bills should you fall ill, protecting you from the worst-case scenario. Oftentimes, this is neglected.
Health insurance tends to be an afterthought for many small business owners, especially with a small team.
More so, if those team members are also 1099 contract employees.
Does this sound like you? Read on to know more about the health insurance advantages and options in this situation.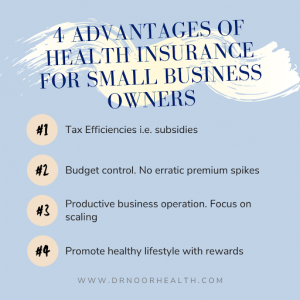 Advantages of having the right type of small business health insurance
There are four crucial advantages of health insurance for small business health insurance.
These are:
1 – Tax credits and efficiencies depending on your business's revenue i.e. subsidies
2 – Budget control- No erratic premium spikes depending on the plan
3 – Productivity. Focus on scaling your business operations
4 – Staying healthy. Promotes a healthy lifestyle and long-term rewards.
Health insurance can be beneficial in more than one way for small business owners.
Whatever your situation, I'm here to help figure out your best health insurance plan.
Check out more information and free resources HERE.
What kind of health insurance plan fits you best?
You can assess the best kind of health insurance for yourself depending on the stage your business is currently in. The reason? Your income ceiling, and to reap the benefits of specific types of insurance packages.
If you're in the launch stage, where your income is still stabilizing, then lock in an insurance plan that is more based on that lower income.
Health insurance options at the startup stage when entrepreneurs have very limited funds can be explored at the healthcare marketplace for a state-sponsored market health plan. The healthcare marketplace will offer tax credits or subsidies to offset that lower income. These subsidized rates can lower your premiums significantly.
However, be careful here, because as your operations grow, and your income increases more than what you estimated, you might owe the IRS back premiums.
Here is my unique link to your state's healthcare marketplace options.
Once your business grows or your revenue exceeds projected income, you will end up owing the government in premiums. Health insurance plans at this stage can get extremely expensive, sometimes even more than a mortgage payment on a house!
When your business is doing well and growing, it is wise to switch to a health-based private plan. A health-based private plan will lock in a rate based on your current health condition so even as your income goes up, your health insurance premiums do not. This is certainly not the only option, as the private market for health insurance offers a candyland of plan options at various price points and coverage levels.
A health-based medically underwritten health policy is truly the best for value. In fact, it's the only type of plan I will work with! And I believe in it so much, I offer personal concierge services to all my clients on these kinds of plans. I am here on standby, to help utilize and maximize the use of the plan, for the entire lifetime of the policy.
How do you know when to get a private health-based plan? Use the 2020-2021 federal poverty guidelines to aid you. If your business is making 400% above the federal poverty level, it's time to switch to a private plan.

Not sure? I'm happy to help guide you. Book a FREE 15-minute consult call with me.
Images via: ​​https://drnoorhealth.com/own-a-small-business-heres-how-to-pick-the-right-health-insurance-plan/